Sign Up
Would you like to sign up for a visit?
I'd love to have you. Here's how to be a guest on RLF.
Be sure to add the RLF button to your website or blog, announcing your visit. Share it on social media with the hashtag #RLFblog to bring visitors to your post. Right-click the button to download to your device.
Romance Lives Forever uses Signup Genius to schedule guests. The system also reminds authors of their visit. One post is available each day. If you choose a date, no one else will be able to take it, so please make a note of it in your own calendar. I will confirm personally. If you don't hear from me within two or three days, feel free to follow up. The system will send an automated reminder three days ahead of your visit. You can sign up for more than one; however, no more than two per author (or pen name) per month.
For downloadable interviews and forms for submission, visit the FAQ page. All material must be submitted via one of these forms.
2019 Guest Author Sign Up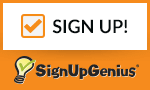 Reserve a date between July – December 2019
https://bit.ly/rlf3Q19
Free Book Friday 2019
Sign up to offer your free book to Romance Lives Forever readers. Five books will be offered each week on Friday. One author can grab a special promotion on the front page for a 7-day period. When signing up, look for the Featured Book position ($5). All other spots are free.
http://bit.ly/rlf-free2019
What's included in the Featured Book position?
All shares on Twitter and Facebook  will feature your name and book cover.
Your book will be featured on the cover for the RLF Free Book Friday Pinterest board.
Can I sign up for a blog tour?
Yes! Authors can schedule their own or have a service contact me. If you own a blog tour service, feel free to sign up your client.
Personal Assistants and Promoters please note: I spend a great deal of time promoting your authors, and to do that well, I require their social media links as well as email. I will copy you on all correspendence, but I reserve the right to refuse anyone who does not provide this information. Romance Lives Forever is all about networking. Those who are not interested in helping their authors network should apply elsewhere.
— Kayelle Allen